STUDIO PICKNICK, Berlin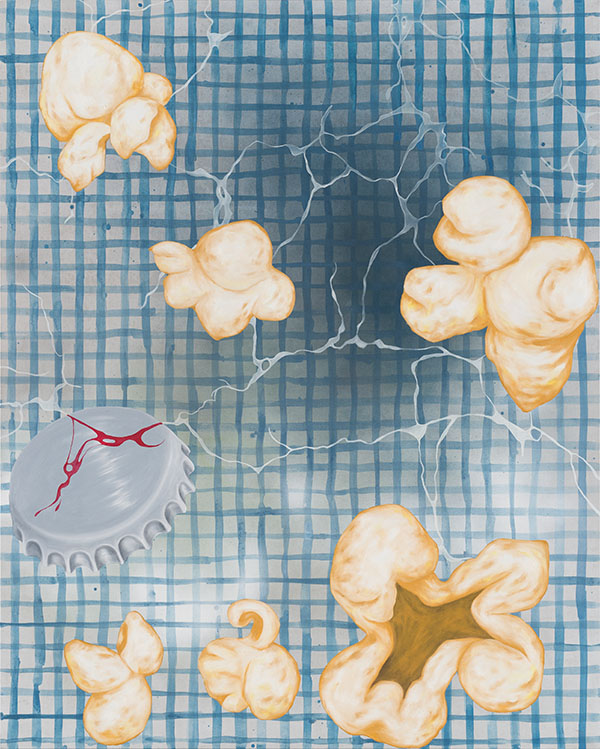 Opening: Friday, April 27, 6-10 pm
Exhibition: April 28 – May 19, 2018 – Sat., 2-7 pm and by appointment
Opening hours during Berlin Gallery Weekend: Sat. and Sun., 1-6 pm
At this year's Gallery Weekend in Berlin, STUDIO PICKNICK is pleased to present the first group show of artists from one-and-a-half years of exhibitions at Potsdamer Straße:

Cheated Eyes, Seeing Tongues
Jagoda Bednarsky, Walker Brengel, Ryan Cullan, Yuni Kim, Rona Kobel, Tom Król, Felix Kultau, Maximilian Rödel, Laura Sachs, Lisa Tiemann, Malte Zenses

Curated by Ruth Kißling and Simone Neuenschwander
Am Anfang steht ein Gesicht, in einfachen Strichen in seine Einzelteile skelettiert. Eine vertikale Zahnreihe, Augen oder Nasenlöcher, zwei Zungen, daneben ein leicht grinsender Mund mit geschlossenen Lippen. Zusammen werfen sie ein kannibalistisches Lächeln in den Raum, das über das Sehen hinaus das ganze Spektrum sensorischer Empfindungen annektiert. Später wird der Mund zu übergroßen Popcorns führen, die illusionistisch und aufreizend greifbar über einer Tischdecke schweben. Taktile Anreize, motorische Impulse, verbale Aufforderungen und markierende Zeichen – unterschiedliche Imaginationen von Berührungen ziehen sich als visuelle Tricks und Verwirrspiele durch die Arbeiten dieser Ausstellung.
Die aufgerufenen Berührungen vollführen in den Werken verschiedene Bewegungen zwischen Täuschung und Evidenz: Sie berichten von visuellen Kniffen und Trompe-l'œils, im Wechselspiel von Aufsicht und Nahsicht, von Form, Material und Behandlung. Sie dehnen sich von der Maskierung von Stofflichkeiten über morphologische Verwandlungen hin zu abstrakten Manipulationen des Bildraums. Ansporne zur physischen Aktivität erscheinen im Widerstreit zwischen Anziehung und Abstoßung. Körperhafte Einschreibungen entstehen in sensuellen Farbverläufen oder in eindringlichen Gesten des Abdrucks von Materialien aus dem eigenen Umfeld.
Die Arbeiten in Cheated Eyes, Seeing Tongues stammen von Künstler*innen aus dem Programm von Studio Picknick der letzten eineinhalb Jahre. Sie spiegeln in der Ausstellung verschiedene Facetten einer Ästhetik der Berührung, die auf deren Wechselseitigkeit – berühren ist auch immer berührt werden – aufbaut. In ihrer Unterschiedlichkeit begegnen sich die Werke in einer Konstellation, die von spontanen Kontaktaufnahmen, von zurückhaltenden Annäherungen genauso wie von einem draufgängerischen Aufeinanderprallen erzählt.
It all starts with a face, dissected into its individual parts by simple slashing lines. A vertical row of teeth, eyes or nostrils, two tongues, flanked by a slightly smiling mouth, lips firmly closed. Together, they toss a cannibalistic smile into the room, one that captures our entire spectrum of sensory perceptions beyond the visual realm. Later, this mouth will lead to outsized popcorn floating above a table cloth in a tantalisingly tangible, illusionistic way. Tactile stimuli, motoric impulses and verbal prompts – like visual puzzles, ruses and confusions different imaginations of touch pervade all the works in this exhibition.
The appearing touches perform different motions between deception and evidence: In their juxtaposition of close-ups and top-down views, of form, material und treatment, they expose visual sleights of hand and trompe l'œils. They extend from veiled materiality and morphological transformations to abstract manipulations of the pictorial space. Incentives for physical activity underscore a conflict between attraction and repulsion. Corporeal inscriptions emerge from sensual color gradients or haunting gestures of imprints made by materials culled from immediate surroundings.
Cheated Eyes, Seeing Tongues presents works by artists who have been part of the program of Studio Picknick over the past year-and-a-half. Here, they reflect different facets of an aesthetic based on the inherent reciprocity of touch – to touch something invariably means being touched by it. In their diversity, the works on display encounter each other in a spatial constellation that relays spontaneous contacts and cautious approaches as well as audacious collisions.
Image Credit: Jagoda Bednarsky, The Remoteness, 2018
Foto: Trevor Good
Address: Potsdamer Straße 118, 10785 Berlin (in the backyard)