STUDIO PICKNICK, Berlin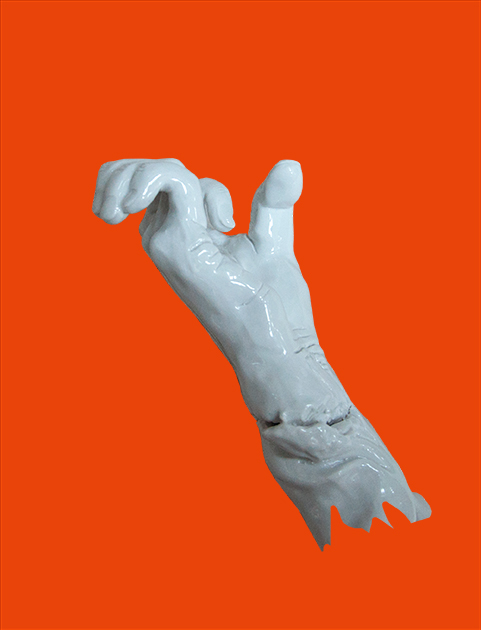 Opening: Tuesday September 12, 5-10 pm | Facebook-Event
Exhibition: September 13 – 30, 2017
Opening hours during Berlin Art Week: September 13 – 17, 3-8 pm
STUDIO PICKNICK is pleased to invite you to the Opening of RONA KOBEL's Solo Show "Beasts within clocks" on the occasion of Berlin Art Week.
Irrungen, Wirrungen, Zerrissenheit
x Traum, Realität, Fiktion
Basis / Ausgangspunkt der neuen Solo Show von Rona Kobel im Studio Picknick zur Berlin Art Week 2017 ist ihre Fotoarbeit "Musical Night" (2016), die in Form einer eigens fürs Studio Picknick entwickelten Rauminstallation zum Leben erweckt wird.
Verteilt im Raum – auf dem Boden, an der Wand – befinden sich ihre neuen Porzellan-Skulpturen – hochglanz weiße Arme und Hände – gefertigt aus original Porzellan der KPM (Königlichen Porzellan Manufaktur Berlin).
Rona Kobel (* 1982 in Freiburg) ist 2014 Meisterschülerin bei Prof. Leiko Ikemura an der Universität der Künste Berlin gewesen und lebt und arbeitet in Berlin.
Link zu Fotos der ersten Show von Rona Kobel 2016 im Studio Picknick.
Confusions, turmoil, inner strife
x dream, reality, fiction
The nucleus / starting point of Rona Kobel's solo show at Studio Picknick for Berlin Art Week 2017 is her photographic work "Musical Night" (2016), here brought to life and manifested in a bespoke spatial installation devised especially for the space and purpose.
Distributed across the room – on the floor, on the wall – Kobel's new porcelain sculptures, high-gloss white arms handcrafted from genuine KPM porcelain (Königlichen Porzellan Manufaktur Berlin/Royal Porcelain Manufactory Berlin), join the display.
Rona Kobel (*1982 in Freiburg, Germany) was a master-class student at Berlin's University of the Arts under Professor Leiko Ikemura in 2014. She lives and works in Berlin.
Link to images of the first Show of Rona Kobel 2016 at Studio Picknick.
Opening hours : Saturday, 12-6 pm and by appointment
Address: STUDIO PICKNICK, Potsdamer Straße 118, 10785 Berlin (in the backyard)